PRESS RELEASE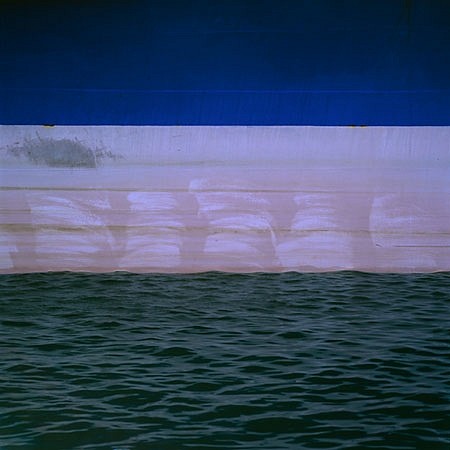 Casey Williams: Winter Light
May 6 – Jun 11, 2005
Holly Johnson Gallery in Dallas is pleased to announce the opening of Casey Williams: Winter Light, a selection of large scale photographs by the celebrated Texas artist. A reception will be held on Friday, May 6, from 6:00 to 8:30 p.m. The exhibition will continue through June 11, 2005.
Casey Williams has been taking photographs of the Houston Ship Channel for fifteen years finding it has a beauty and aesthetic all its own. Exploiting the similarities between the worn surfaces of ship's hulls and paintings heavily worked surfaces this work intentionally alludes to the Abstract Expressionists. His new work challenges our assumptions about the content of our world and reminds us it is important to stand still and observe.
In shifting to abstraction, the artist has revisited issues explored in college while studying painting yet continuing his interest in the illusion of space in photography. working in serial fashion, he simplifies and reduces the variables finding subtleties from photograph to photograph. Images are taken in bright, winter light producing lush saturated colors. They are presented on a finely grained synthetic satin and woven cotton canvas then stretched around traditional painting supports.
Casey Williams received his B.F.A. from the University of Texas in 1970 and his M.F.A. from the San Francisco Art Institute in 1976. In 1999 he received an Individual Artist Grant and Fellowship Award from CACHH, the Cultural Arts Council of Houston Harris County.
Since the 1970's his work has been included in numerous solo and group exhibitions including: Industrial Ingenuit, Art Museum of Southeast Texas, Beaumont, Texas; 5 Artists New Works, Diverseworks, Houston, Texas; New Orleans Triennia, New Orleans Museum of Art, New Orleans, Louisiana; Texas Between Two Worlds, Contemporary Arts Museum, Houston, Texas; Casey Williams: Recent Work, Laguna Gloria Art Museum, Austin, Texas; The Texas Landscape, The Museum of Fine Arts, Houston, Texas; Big Pictures by Contemporary Photographers, The Museum of Modern Art, New York; The New Photograph, Contemporary Arts Museum, Houston, Texas.
Williams' work can be seen in the collections of the Museum of Modern Art in New York City, Museum of Fine Arts in Houston, Bibliotheque Nationale in Paris, Laguna Gloria Art Museum in Austin, University of Texas in Austin, Atlantic Richfield Company in Los Angeles, SBC Collection in San Antonio, Frito, Lay Collection in Plano and the Federal Reserve Bank in Dallas.
Holly Johnson Gallery is located at 1411 Dragon Street in Dallas, Texas 75207. Gallery hours are 10:00 a.m. to 5:00 p.m. Tuesday - Saturday. For further information regarding Casey Williams: Winter Light call 214-369-0169. If you would like to receive future press releases via email, contact the gallery at info@hollyjohnsongallery.com.