PRESS RELEASE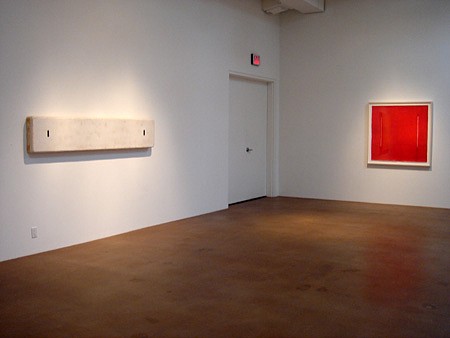 Otis Jones: Untitled
Sep 12 – Oct 10, 2009
Holly Johnson Gallery in Dallas is pleased to announce the opening of, Otis Jones: Untitled, an exhibition of new paintings and works on paper. A reception for the artist will be held Saturday, September 12, from 5:00 to 8:00 p.m. The exhibit continues through October 10 and includes a catalog with an essay by John Zotos.
In a career that has spanned over thirty years, Otis Jones seeks to make work that deals with the physicality of painting and its inherent use of materials. Working with both abstraction and minimalism, he relies on the most basic of devices to explore the nature of painting, including color, shape, line and texture. Each work tells the story of its making through the process of purposefully distressing the piece, through the remnants of the artist's presence, such as fingerprints and visible staples. Grounded in the faith that painting can be both evocative and direct, Otis Jones conjures meaning from beyond the object.
John Zotos writes, "[Jones] is not afraid to make art that foregrounds the human presence and experience of the creative process. The work relates to things people experience everyday like the textures and surfaces that comprise a living space."
Otis Jones was born in Galveston, Texas in 1946. He received a Bachelor of Fine Arts degree from Kansas State University, Pittsburg, Kansas in 1969 and a Master of Fine Arts from the University of Oklahoma, Norman, Oklahoma in 1972. In 1982, Otis Jones was awarded a National Endowment for the Arts–Visual Artists Fellowship Grant. He now makes his home in Dallas.
The work of Otis Jones has been included in over 100 solo and group exhibitions since the 1970s, such as the Drawing In, CADD Art Lab, Dallas, Texas (2009), Texas Paint Part II: Out of Abstraction, Arlington Museum of Art (2006), Pairings: Artists' selections from the Dallas Museum of Art, Dallas Center for Contemporary Art (2005), Texas Vision: The Barrett Collection, Meadows Museum, Southern Methodist University in Dallas (2004), The Passionate Eye, Laguna Gloria Art Museum in Austin (1991), New Acquisitions, Dallas Museum of Art (1990), Surface/Painting in Three Dimensions, Albuquerque Museum (1989), 4 Painters: Jones, Smith, Stack, Utterback, Contemporary Arts Museum in Houston (1981), and Focus: Otis Jones, Modern Art Museum of Fort Worth (1983).
Otis Jones' work is featured in numerous public collections, including the Dallas Museum of Art, MIT List Visual Arts Center in Cambridge, Massachusetts, the Springfield Art Museum in Springfield, Missouri, the Tyler Museum of Art in Tyler, Texas, American Airlines in Fort Worth, Neiman-Marcus in Dallas and Plano, Compaq Corporation in Houston, and Four Seasons Resort in Scottsdale, Arizona. His work has been featured in recent articles in such publications as The Dallas Morning News (2006), NY Arts (2006 and 2008), THE Magazine DFW (2009), D Magazine and D Home (2009).
John Zotos is a freelance writer and art critic living in Dallas. He completed an M.A. in Aesthetics and Criticism in 2003 at the University of Texas at Dallas. His articles have most recently been published in New York Arts Magazine, Artfairs International, and Artlies.