PRESS RELEASE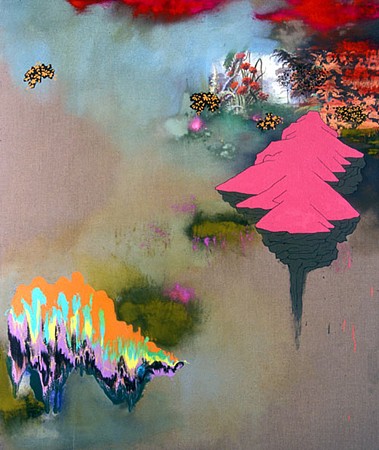 Jackie Tileston: Heterotopia
Dec 5, 2005 – Jan 7, 2006
Holly Johnson Gallery in Dallas, Texas is pleased to announce the opening of Heterotopia, an exhibition of recent paintings and works on paper by Jackie Tileston. A catalogue accompanying the exhibition is available with an essay by Dr. Frances Colpitt. An opening reception for the artist will be held on Friday, December 2, from 6:00 to 8:00 p.m. The exhibition continues through January 7, 2006.
Jackie Tileston's paintings are rich combinations of oil paint, powdered pigments, enamel, and collage. Incorporating remnants from her diverse cultural upbringing, the artist forms clouds of pure color by rubbing powdered pigments directly into the surfaces while patterns of painterly activity overlap fragments of Chinese landscape painting, antique French wallpaper, Japanese woodcuts, and Hindu deity imagery.
"…Tileston reaches beyond formal issues to more cosmic concerns ranging from fractals to non-Western religious imagery. Delighted to discover an essay derived from a 1967 lecture by Michel Foucault, Tileston adopted his title, Heterotopia, to describe the fantasy-strewn spaces with multiple layers of meaning in these powerful, transformative paintings."
Dr. Frances Colpitt
Tileston was born in the Philippines and brought up in Bombay, London, Paris, and the U.S. She received a M.F.A. from Indiana University in 1988 and a B.A. from Yale University in 1983. From 1988-1990 she was a Core Fellow in the residency program of the Museum of Fine Arts, Houston. In 2004 she received a $50,000 PEW Fellowship in the Arts and in 2005 a Bellagio Residency in Italy from the Rockefeller Foundation. She currently teaches painting at the University of Pennsylvania. Her work has appeared in exhibitions in venues such as University of New Mexico in Albuquerque, University of Texas in San Antonio, Longview Museum of Art in Texas, Contemporary Art Museum in Houston, Philadelphia Art Alliance in Pennsylvania, Delaware Center for Contemporary Art, ArtPace in San Antonio, Contemporary Art Museum in Houston, Galveston Art Center in Texas, McKinney Avenue Contemporary in Dallas, Laguna Gloria Art Museum in Austin, and Museum of Fine Arts, Houston.