PRESS RELEASE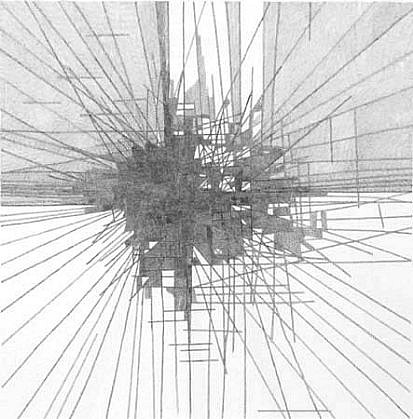 Linear Landscape: Ink Drawings by Jacob El Hanani
Mar 31 – Jun 16, 2012
Holly Johnson Gallery in Dallas is pleased to announce the opening of Linear Landscape: Ink Drawings by Jacob El Hanani. The artist, a tireless and meticulous mark maker, will show ten recent ink drawings measuring 18 x 18 inches. The reception will be held Saturday, March 31st, from 6:00 to 8:00 p.m.
Over the last 30 years El Hanani has pursued his vision with tenacity and zeal. His highly intricate works are created through the process of painstaking repetition of minuscule marks, lines, or Hebrew letters. This process was conceived when he was in grade school and the teacher made him write "Song of Deborah" from the bible 40 times. Not wanting to waste paper he wrote the sentence 20 times on the front and 20 on the back in small letters. This method became the foundation of his future work while also gaining inspiration from calligraphy and patterning he saw as child in Morocco and Israel.
El Hanani is not swayed by the ever-changing trends of the contemporary art world. Arthur C. Danto echoes this statement in the "Best of 2000" in ArtForum writing, "The drawings evoked peace and patience, as if time had no bearing on their world." El Hanani's work has been considered minimal but he disagrees. Although not opposed to Minimalism, El Hanani's work draws upon the tradition of micrography, the art or practice of writing in very small characters. He does not magnify these images but creates non-figurative representational objects. The end result is an extraordinary monochrome work from afar with detailed web-like patterns close up. The intimate detail of his fine marks and intricate patterns echoes the culture in which he was raised.
Jacob El Hanani was born in 1947 and spent his early childhood in Casablanca. In the early 50's El Hanani's family immigrated to Israel where he grew up. He is a graduate of the Avni School of Fine Art in Tel Aviv (1965-1969). Following school he lived in Paris for a number of years attending the Ecole des Beaux-Arts (1969- 70). The artist has been the recipient of many awards, including the American Israel Cultural Foundation Award (1969), Louis Comfort Tiffany Foundation Award (1997) and the American Academy of Arts and Letters, Purchase Award (2003). He has lived and worked in New York City since 1974.
His drawings have been acquired by many prestigious public collections around the world including; The Art Institute of Chicago, Chicago; Art Gallery of Ontario, Canada; The British Museum, London; Brooklyn Museum, New York; Fogg Museum, Harvard University, Cambridge; Solomon R. Guggenheim Museum, New York; The Israel Museum, Jerusalem; The Hirshhorn Museum and Sculpture Garden, Smithsonian Institution, Washington, DC; The Jewish Museum, New York; The Menil Collection, Houston; The Metropolitan Museum of Art, New York; The Morgan Library and Museum, New York; Musee National d'Arte Moderne, Centre George Pompidou, Paris; Museo de Arte Contemporaneo, Caracas; The Museum of Fine Arts, Boston; The Museum of Fine Arts, Houston; The Museum of Modern Art, New York; National Gallery of Art, Washington, DC; Neuberger Museum, Purchase, NY; Tel-Aviv Museum of Art, Tel Aviv; Walker Art Center, Minneapolis; The Whitney Museum of American Art, New York and the Yale University Art Gallery, New Haven.