PRESS RELEASE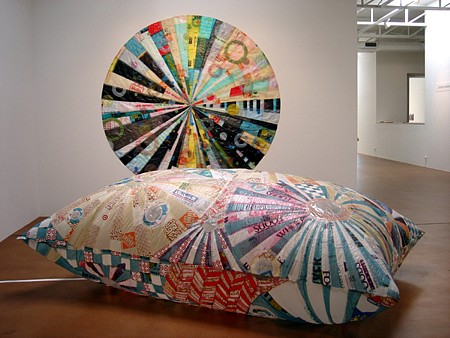 Femme Fatale
Jun 13 – Aug 15, 2009
Holly Johnson Gallery in Dallas, Texas is pleased to announce the opening of FEMME FATALE on Saturday, June 13 and Saturday, July 25 from 6:00 to 8:00 p.m. The exhibition features recent work from each of the following women artists: Virginia Fleck, Sharon Louden, Kim Cadmus Owens, Kim Squaglia, and Sarah Walker. The exhibition will feature a variety of techniques in painting and sculpture. FEMME FATALE continues through August 15, 2009.
Virginia Fleck attended the School of the Museum of Fine Art in Boston, Massachusetts and the Portland School of Art (now Maine College of Art) in Portland, Maine. Fleck's colorful mandalas, made from non-biodegradable plastic shopping bags, are as much a celebration of the everyday object as they are a commentary on ecological awareness. These mandalas analyze the activity of consumerism as a spiritual encounter. Fleck's work is included in the permanent collections of Dell Children's Hospital in Austin, Texas, the US Embassy in Rwanda, Marino Golinelli Collection, Whole Foods, and Women's International News Gathering Service. She was born in New York City in 1960 and currently lives and works in Austin, Texas.
Sharon Louden graduated with a BFA from the School of the Art Institute of Chicago and an MFA from Yale University, School of Art. Louden's work is formal yet abstract, focusing on line, gesture and materials. She explores the nature of the line with bunches of brightly-colored monofilament line "tails." The line is the foundation on which her paintings, drawings and sculptural installations are built. Her work has been exhibited in numerous venues including the Drawing Center, Delaware Center for Contemporary Arts and Kemper Museum of Contemporary Art. She is in the collections of the Neuberger Museum of Art, National Gallery of Art, Yale University Art Gallery, Weatherspoon Art Museum, and MFA, Houston. Recent exhibitions include a major survey at the Neuberger Museum of Art. Taking Turns, a major exhibition, traveled from the Birmingham Museum of Art to Weatherspoon Art Museum. Currently one of her large outdoor installations is on display on the main lawn of the List Art Center at Brown University through the end of this year. She currently resides in New York City.
Kim Cadmus Owens attended the University of North Texas from 1989-1992 before earning her B.F.A. at the San Francisco Art Institute and then her MFA at Towson University in Towson, Maryland. Her most recent exhibition was "Build Me Up, Tear Me Down" at the Platform Project Space, curated by Almitra Stanley, in New York City. The exhibition explored architectural construction and deconstruction and concepts such as disintegration and entropy. She also participated in the 2009 Texas Biennial in Austin, Texas. In 2008 she was featured in New American Paintings #78. She resides in Dallas and is currently a professor of painting at the University of Dallas in Irving.
Kim Squaglia received her BFA from California State University Chico and her MFA from the University of Texas San Antonio in 2000. In 2001, she participated in a residency at Skowhegan School of Painting and Sculpture in Skowhegan, Maine. Her work is deeply influenced by biological processes -- she uses several layers of delicate patterns to create movement in her paintings. She builds on each surface with areas of saturated fields of color or colored lines and patterns. The imagery references the forms and space of biology now transformed into delicate web-like chrysanthemums—drippy and elongated tendrils interwoven with thin string and star-shaped creatures. Her work is included in the permanent collections of Neiman Marcus, Microsoft, Texas Research Foundation Park, and multiple US Embassies around the world. She currently resides in Sacramento.
Sarah Walker earned her BFA at the California College of the Arts in Oakland, California and her MFA at the University of North Carolina in Chapel Hill, North Carolina. In 2005, she received the Rappaport Prize from the Jerome Lyle Rappaport Charitable Foundation and completed a fellowship at the Ucross Foundation in Clearmont, Wyoming. Walker's work aims to alter the viewer's visual perception by layering patterns of complex images. Her patterns and systems explore everyday virtual spaces such as the human mind and the internet. Most recently, Walker's work has been shown at the Visual Arts Center of New Jersey in Summit, New Jersey and the DeCordova Museum in Lincoln, Massachusetts. She currently resides in New York City.