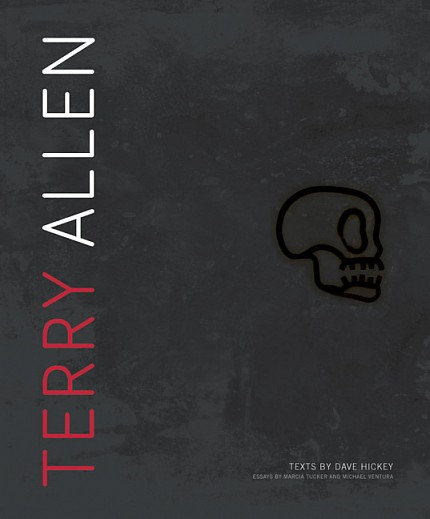 BOOK RELEASE: Terry Allen by UTPress
January 10, 2010 - Terry Allen
"Finding one particular thing at one particular time, then letting a world accumulate around it, in rough contingency, nothing quite fitting or not fitting." This is how Dave Hickey describes the work of artist and singer-songwriter Terry Allen, who creates works that proliferate into a constellation of genres as he revisits and revises his original inspirations. A painting may lead to a sculpture, which morphs into a song that takes on many voices and becomes a theatre piece or video installation. Yet, in Allen's endlessly evolving art, "nothing that you might actually see in the world is depicted, nothing is even surreal, because surrealism infers a starting point in reality. The songs are sung by disembodied voices. The stories are told by voices with regional accents. The drawings are drawn because otherwise we could not see what they are about, so they are better read as heraldry, or glyphs, or typologies than anything like pictures."
Terry Allen is the first comprehensive retrospective of this prolific artist's work. It opens with a previously unpublished celebration of Allen by Dave Hickey, then covers his three largest and most important series—JUAREZ, with critical commentary by Dave Hickey; RING, with commentary by Marcia Tucker; and YOUTH IN ASIA, with an interview of Terry Allen and commentary by Dave Hickey. It also explores Allen's other significant visual works—installations, public works and bronzes, and sculpture and works on paper. Highlighting an equally important part of the artist's oeuvre, Michael Ventura provides an insightful discussion of Allen's music. More than two hundred color and black-and-white images flow in and around the texts, providing a sweeping visual gallery of Allen's work in which, as Hickey observes, "not only are there no happy endings. There are no endings."
Terry Allen By Terry Allen includes texts by Dave Hickey, essays by Marcia Tucker and Michael Ventura, and more than 200 superb illustrations. Hardcover, 10 x 12 | 312 pp.
Back to News