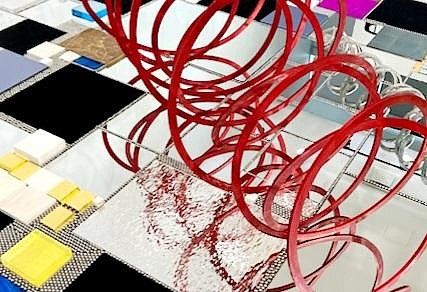 PRESS RELEASE: Margo Sawyer - The Presence and Absence of Color opens Jan 18
January 17, 2023 - Trinity University
Trinity University's Department of Art and Art History welcomes guest artist Margo Sawyer as part of the 2022-2023 Stieren Arts Enrichment Series. The Stieren Arts Enrichment Series brings to campus a distinguished array of leaders in the fields of art, music, drama, communication, literature, art history, and aesthetics and is made possible by an endowment gift from Jane and the late Arthur Stieren of San Antonio....
Margo Sawyer's installations and public artworks unite an array of complex and unexpected unions of color, optical play, how transparency, reflectivity, luminosity, physicality, materiality, perceptual, material and shape affect the psychological effects of color, as a window into our multicultural world. Sawyer is fascinated with the relationship between space and transcendence where architecture and ritual converge in creating unique and memorable experiences, capable of restoring a quality of contemplation within our lives.
The Margo Sawyer Lecture will be held Wednesday, January 18th, 6:30 p.m. at the Ruth Taylor Recital Hall immediately followed by a reception for the exhibition, THE PRESENCE AND ABSENCE OF COLOR, from 7:30 – 9:00 p.m. in the Michael and Noémi Neidorff Art Gallery in the Dicke Smith Building. The exhibition will be on view from January 18 through February 11, 2023. All events are free and open to the public. For more information, visit Trinity's events calendar.
https://www.trinity.edu/directory/spaces-places/campbell-and-eloise-smith-music-building
https://www.trinity.edu/news/presenting-2022-23-stieren-arts-enrichment-series
Download Article (PDF)
Back to News