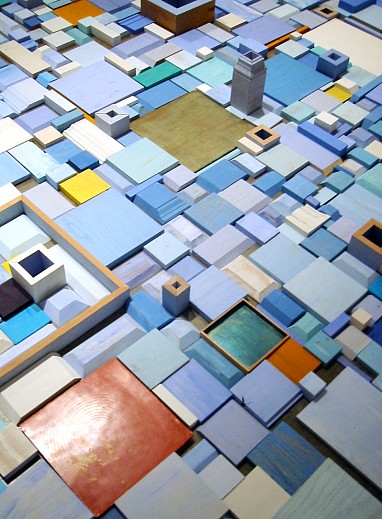 PRESS RELEASE: Margo Sawyer - Reflection on Color
January 23, 2021 - The Grace Museum
January 23 - August 7, 2021
Due to COVID-19 The Grace Museum will be closed to the public Monday-Friday but open to visitors on Saturdays from 10:00 a.m. - 5:00 p.m. through February 27. Weekday appointments may also be scheduled with advance notice by calling Sheila Scevers at (325) 673-4587 ext. 109. The Grace Museum is loacated at 102 Cypress Street in Abilene, Texas 79601
In 2018, The Grace Museum was privileged to acquire Margo Sawyer's acclaimed 1998 sculptural installation BLUE through an unprecedented collaboration with The Contemporary Austin and the Blanton Museum of Art at The University of Texas Austin. For this exhibition Sawyer installs BLUE in response to The Grace Museum's unique historical galleries and creates new work as an ongoing conversation with the past and present. The site-specific installation BLUE was originally created during Sawyer's 1998 Austin Museum of Art residency program at Laguna Gloria. BLUE has been described as a miniature city, an Oriental carpet, an ocean, and a garden just out of reach with thousands of hand-crafted elements arranged to reference Sawyer's world travels to exotic places like the Indian city of Jodhpur, where blue doors, windows and steps follow the Brahmin tradition. Upon closer inspection, universal visions of blue skies and bodies of water are interrupted with earth elements, objects and reflective surfaces that tease the eye and broaden focus to include the beauty and transcendence of abundance, diversity, and individuality of the complex world we inhabit.
For much of her career, Margo Sawyer's large-scale installations have emerged from observations of historic and contemporary sites of sacred architecture. She is interested in the relationship between space and transcendence as explored in Buddhism and Hinduism. From this research, Sawyer creates sculptural topographies that map a contemplative terrain that is part architecture and part landscape. Sawyer's art highlights the blend of the complex and unexpected where the physical, material, perceptual, and psychological effects of color interact.
Texas-based Margo Sawyer was born in 1958 in Washington, DC, where she lived as well as in Yaoundé, Cameroon, Africa. During her formative years she was raised in Lewes, & Brighton in East Sussex, England. She received her B.A. from the Chelsea School of Art in London and her M.F.A. in sculpture from Yale University. Sawyer is currently Professor of Sculpture and Extended Media and holds the Jack G. Taylor Regents Professorship in Fine Art in the Department of Art and Art History at The University of Texas at Austin. From 2000-01 Sawyer founded and directed 1/4 Hora Project Space, an alternative space in Elgin, Texas.
Sawyer is the niece of Harlem Renaissance painter Aaron Douglas and her father was one of the first African Americans to serve in the U.S. diplomatic corps in the 1950s. He met her British mother in Accra, Ghana. Her grandfather founded the NAACP in Topeka, Kansas and helped initiate the legal action that became Brown v. Board of Education, which struck down school segregation.
Sawyer is a 2018 Guggenheim Fellow and career awards include: Fulbright Research Fellowship (India 1982-83) (Japan 1995-96), Rome Prize (1987), National Endowment for the Arts Grant for Individual Artists (1987), New York State Council for the Arts Grant for Public Art (1987), Grants Fund for Artists (1994) through the National Endowment for the Arts and Arts International for research in India and Myanmar, Japan Foundation Visual Arts Fellowship (1996), Louis Comfort Tiffany Foundation Award (2001), Dora Maar Fellowship (2016) from the Brown Foundation & the Museum of Fine Arts, Houston, and in 2015 Sawyer was honored with the 52nd Texas Legislator Honor Texas Artist Laureate.
Sawyer exhibits nationally and internationally in locations such as Japan, India, Italy, the United Kingdom, and the United States, with solo exhibitions at Sagacho Exhibit Space, Tokyo, Japan; Mattress Factory, Pittsburgh, PA; P.S.1 Museum, New York, NY; Holly Johnson Gallery, Dallas, TX; Nancy Littlejohn Fine Art, Houston, TX; Barbara Toll Fine Arts, New York, NY; and the Blaffer Art Museum at the University of Houston, Houston, TX. Sawyer has created many large public artworks in cities such as London, UK, and just completed a commission of a monumental architectural glass sculpture for US State Department: Art in Embassy Program for the new United States Embassy in Pristina, Kosovo. Other permanent artworks in New York City, and Indianapolis, Indiana, Houston, In the state of Texas, she has permanent artworks in Austin, Dallas, San Antonio, and Houston.
Images: Margo Sawyer, "Blue" (detail), 1998, Wood tempera and gold and silver leaf. Collection of The Grace Museum, gift of the Blanton Museum of Art 2018, Transfer from The Contemporary Austin, partial gift of the artist, with funds generously provided by ArtPace, A Foundation for Contemporary Art/San Antonio; Deborah and Tom Green; William F. Stern; Lee M. Knox, Juan and Carmen Creixell, and an anonymous donor. © Margo Sawyer.
Margo Sawyer is Represented by Holly Johnson Gallery in Dallas, Texas.
Download Article (PDF)
Back to News